Green Peas on the Highway: A Week in a Rental Motorhome
Originally published: 2020-10-09
Last updated: 2020-10-09
August 2020. My wife and I are faced with "use it or lose it" vacation days, with no plan to use them. COVID has made us unwilling to get on an airplane, or stay in a hotel, or even eat indoors at a restaurant. Added to that, Carly, our cockatiel, now needs twice daily medication: a process involving grabbing her and squirting the medicine into her beak from a syringe. Not something that we'd inflict on the friends that have pet-sat for us in the past.
While dropping my motorcycle for service, I suggested that we stop at the nearby RV dealer, which also does rentals. It seems like everybody else has the same idea: every salesperson had a customer, and people are waiting for their chance. We talked to Pete, the rental manager, and learn that yes, we can rent a Winnebago Outlook 25J (26 feet long) Class C motorhome for a week at the end of September. We put our deposit down, and went home to make plans.
I should say here that this isn't completely out of the blue. We've both backpacked, she spent a summer bicycle-camping across France, and we've gone car-camping numerous times. We've also talked about renting a small trailer that can be towed by our Subaru Outback — sleeping in a tent has moved off our list of ways to spend a weekend. Well, now we get to see if we can spend a week in a living space that's slightly larger than our galley-style kitchen.
Planning
With the vehicle secured, the next step was to secure campground reservations. I had the idea of going to Bar Harbor, staying at Lamoine State Park, which is across the bay from Mt Desert Island and a much more pleasant experience. This would be a two days out, three days there, and two days back; to break up the drive, I figured we could visit friends in Massachusetts. However, the various New England states had COVID policies that amounted to "we'd prefer that you stay home." Maine wanted a two-week quarantine for anyone coming from out-of-state, unless they presented a negative COVID test result. I respect that, and felt that it would be ethically questionable to get a test just so that we could go camping.
New York was more accepting: there's a long list of states whose residents are subject to quarantine, but Pennsylvania wasn't on the list (although it could have joined the list at any time, so I checked weekly). Given the time of year, my goal was to spend time in the Adirondacks: the foliage there is near peak in early October. However, that's a long drive, especially since we didn't know when we'd be able to pick up the unit. We ended up reserving two days at Taughannock Falls state park, in the Finger Lakes region, and three days at Crown Point state park, on the shore of Lake Champlain. The former had the benefit of providing an electrical hookup, so we could use most of the 110v appliances in the unit without running the generator.
Getting Ready
As I said, we've done quite a bit of car camping. That means that there are several plastic bins in our basement that contain everything needed: cookware (including some truly ugly orange-handled flatware that I bought for $5 at a discount store), gasoline lantern, screenhouse (mosquitoes are the worst part of any camping trip), and so on. Oh, and a gasoline-powered blender that a friend gave us as a wedding present. It makes great frozen margaritas in the middle of nowhere, but stayed home for this trip.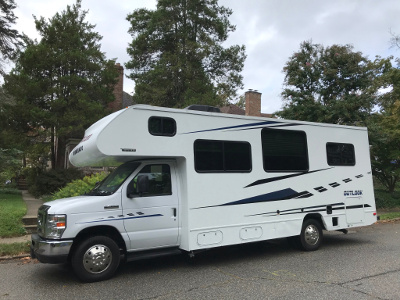 One thing that stayed home but should have come with us was our camping stove. A friend of ours who owns an RV had told us that she and her husband try to avoid cooking inside, but that advice didn't quite sink in. Or maybe I was too enamored of the 3-burner stove in our unit. But it wass good advice: using the inside stove heats up the unit (which is OK if it's chilly, not if it's mid-70s and humid), and it leaves the smell of whatever you're cooking to linger through the night.
I also searched the Internet and watched online videos, covering both the model that we were renting, and general tips and techniques. Most of it good, but also the typical Internet strong opinions.
My wife worked out a menu for the week, which is a great idea. Of course, as with any plan, it changed upon meeting the real world. But it ensure that we had enough food (in particular, canned food) to deal with the possibilities of losing the refrigerator or not being able to pick up provisions at a supermarket.
And lastly, I updated our EZ-Pass account with the license plate number of the unit. This didn't work out so well.
First, the website directed me to call the service center, which made sense because the website didn't provide any way to configure the type of RV. The person who answered my call couldn't find the RV was on my account, because I'd set a date range that just covered our trip. Then I learned that I would need a separate transponder, because our existing transponders identified identified the vehicle as a car. With two days to go until our trip, that was out, so I asked about whether toll-by-plate would properly recognize the vehicle. I was told yes, but only in Pennsylvania (which has eliminated tickets entirely). No problem: the only toll road that I was only planning to use was the PA Turnpike; the rest of the trip would be on secondary highways.
Unfortunately, it's been two weeks, and I haven't seen any transactions show up on my EZ-Pass account. I discussed this with Pete, and he said that this happens, and they just tell EZ-Pass who the renter is. So at some point I expect to be billed; whether that will come with a surcharge or violation, I don't know.
The First Day
I think I said above that we have all of our camping gear in plastic bins. But that doesn't include food, or bedding, or clothes, or our bicycles … you get the idea. The process of moving everything into the vehicle took nearly two hours. There's a lot of work involved in figuring out where to put things so that they won't move while driving — or more important, stopping quickly (another friend who owns an RV referred to their sink cover / cutting board as "the death frisbee").
On the road, the unit handled like, well, a truck. The steering wheel seemed only tenuously connected to the front tires; it swayed alarmingly while cornering or on rough roads; it gained speed quickly while going downhill, and fought to maintain speed uphill; the gas and brakes seemed to act on a time-delay. Fortunately, I learned how to drive in a van, and 40-year-old habits are still with me: managing momentum, planning for wide turns, and most important, using my mirrors.
What I wasn't prepared for was the bizarre perspective offered by the passenger-side mirror. In a normal car, "objects are closer than they appear." The RV, mirror, however, dramatically foreshortened its view: objects appeared much closer than they actually were. Cars would appear to be right behind me when in fact they were several lengths back. I learned that it was safe to change back into the right lane when whatever you were passing had disappeared from the small fisheye mirror that showed traffic immediately beside the vehicle. I'm sure that someone cursed me for cutting in too soon, but I didn't drive anyone off the road (that I know of!) so I'll call that success.
Related, my biggest fear was arriving at the campground after dark and having to back into a small space (based on Internet reviews of our chosen site, all written by people who had trouble parking). I had planned for this eventuality: I have a portable halogen worklight, and was planning to plug it into the RV's external power outlet and have my wife point it at the spot. But it didn't get packed (as my wife said, if you have a checklist you need to check things off it; I didn't).
As it turned out, we arrived about a half hour before sunset, with plenty of light, and there was plenty of room to get the RV positioned and backed in. Then I discovered something that the reviews didn't mention: our 25' power cord wouldn't reach the outlet shared with the neighboring site. Fortunately, I was able to position the unit so that it was close enough, but the back of the unit was directly over the firepit; good thing we're not "fire people."
Lesson learned: it's great that people write reviews of individual campsites, but don't trust them.
Moving On
The allure of an RV is that — unlike a hotel room or tent camping — you don't have to pack up every day. That's not quite true: anything that isn't securely stowed will move with every bump in the road. In particular, if you just leave dishes in the cabinet, you'll end up with everything in one pile, and maybe a few broken ones. Our camping dishes are metal, so breakage isn't a concern, but I didn't want to hear them bouncing around. So we repacked the cabinets, heavy items in front because they'll slide when coming to a stop. There were also a few boxes that moved from the overhead bunk (a great place to store stuff if you're not using it as a bed!) to the floor.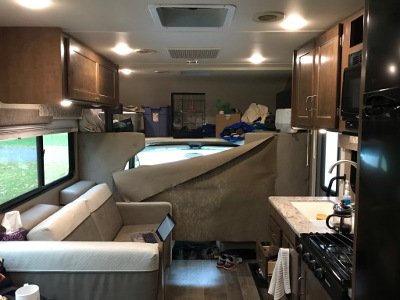 It took us around 45 minutes to get everything into position. If we were more experienced it may have been 15 minutes to a half hour. Then it was time for the thing that every new RV-er dreads: emptying the waste tanks before getting on the road.
You can read descriptions, you can watch videos, but hanging over you is that scene from the movie RV. It doesn't help to remember that, physically, a geyser of poop is impossible because the tanks drain by gravity (at least in the unit we rented).
What is possible, as I learned the hard way, is that the tank valves will leak, and you'll get about a half gallon of liquid draining out when you take the cover off the waste pipe (thus the need for disposable gloves!). And while your unit might not leak, other peoples' do; there's generally a puddle of unknown provenance around the dump station, so don't let your pant cuffs drag on the ground. One other word of advice is to lay out the drain hose without any kinks or loops: you want a straight path from your tank to the septic system.
After this, we had a lovely drive up the shore of Cayuga Lake, making the obligatory winery stop (we got there before they opened, so had plenty of room to turn around in the parking lot; beware pulling into a full lot unless you can see the path to your parking space). Lunch was in a parking area by the side of the road, then we drove through the Adirondacks in peak foliage.
As I've noted elsewhere, when traveling I like an ice cream break around 4 PM. And right on time, we arrived in the town of Speculator NY, which is the largest town in that part of the Adirondacks, and which has several places that sell ice cream. Unfortunately, a combination of the day of week (Monday), time of year (post summer season), and no doubt reduced tourism due to COVID meant that none of them were open. So again, we stopped by the side of the road, and I made a pot of coffee. Not quite the same experience, but it served the same purpose, and is definitely something we've never done while car-camping.
We arrived at our campsite on the shore of Lake Champlain about 15 minutes before sunset, and discovered that the water spigots near our site didn't have threaded couplings. You'll see a lot of advice online about emptying your fresh-water tank before moving, but thankfully I ignored that advice and left it just under half full. This meant that we could set up without stress. The next morning I discovered that there was exactly one spigot with a threaded coupler for our water hose, and it was in an inconvenient location (if you're going there, it's in the middle of a group of sites at the far end of the park).
Rain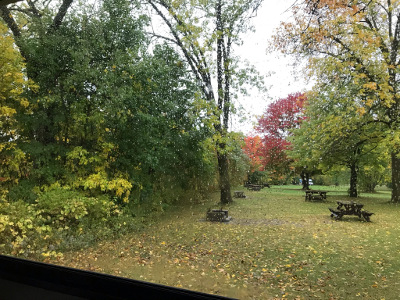 Our last night in the campground, heavy rain moved in. Rain on the roof of an RV sounds much louder than rain on the roof of a house. And at times, the water running down the outside of the unit sounded like a leak pouring water inside. Just as when tent camping, it makes sleeping harder wondering what you'll find in the morning.
It turned out that there was a self-created leak, although not a major one, and certainly not the source of the noise: I had left the roof vent cracked slightly open. I had thought that it wasn't open far enough to let water in, but the wind blew some rain up under the edge. Nothing that a paper towel couldn't absorb, but a reminder that water finds its way in.
On the other hand, I've spent many a morning waking up after rain, walking to a cold, damp bathhouse, and then folding up my wet tent, It was really nice to wake up, put on a pot of water for coffee, and then turn on the furnace to take the chill out of the air. Not quite living at home, but in no way "roughing it."
Closing Thoughts
Will I take another RV vacation? Sure. In fact, I suggested to a friend that we do a Finger Lakes winery tour by RV. But it definitely has limitations: once you're set up at a campground, you don't want to pack everything just to go out for dinner or food shopping. I now understand why people tow cars behind their RVs.
And, let's be blunt, it ain't cheap. The unit we rented was $225 a night, which included insurance, along with 100 miles and 1 hour of generator use per day. You can certainly find less expensive options, but I suspect that you get what you pay for: I've read nightmare stories of rattling, smelly rentals. And on top of the daily rate, filling the tank is over $100 and you only get 8 miles per gallon (less when on the highway, due to wind resistance).
Moreover, the list price of the unit that we rented was $85,000 — and it's an entry-level unit. We could rent for well over a year before hitting that price point. So owning an RV probably isn't in our future, unless we decide to live on the road full-time. Which I don't see my wife agreeing to.
However, I'm betting that a few years from now, when 2020 is just a bad memory, there will be a bunch of lightly used and reasonably priced RVs on the resale market.
Copyright © Keith D Gregory, all rights reserved